HOME Gibbeum Hospital
---
Gibbeum means Joy
Gibbeum means Joy in Korean.
Our hospital name translates to 'Joy Hospital' in English. We are always trying to meet the expectations of our name.
A lot of Hernia Patients are visiting our clinic these days, and they have left messages such as; "I was so happy to find Gibbeum hospital.", "I'm very happy to be here. " They all tell me they're happy to have discovered my hospital just before they have surgery, some even before they have gotten on an airplane to come. What is the reason? Is it because our new hernia operation is the one they're looking for? Is it because they're so relieved to know that there's a hospital doing a safe repair? Or is it because they're so fortunate that they're about to get a repair done now?
We're trying. We will be a hospital which can give you comfort not only before the surgery, but also many years after the operation.
History and Doctors
Gibbeum Hospital was opened on December 1, 2005. In 2001, before the establishment of Gibbeum Hospital, the first hernia clinic in Korea was opened by Dr. Kang, who was the chief doctor at that hospital. Gibbeum Hospital evolved from the Seoul Surgical Clinic founded in 1990, which was very famous for being Korea's best colorectal clinic.
At Gibbeum Hospital, 23 doctors work together.
General Surgeons: 9 persons / Gastroenterologists: 5 persons / Family Doctor: 2 person / Gynecologist: 1 person / Radiologists: 5 persons / Anesthesiologist: 1 person

---
Center & clinics
Hernia Center
Our hospital has concentrated on Hernia surgery since its opening, and it is the hospital that carries out the most hernia surgeries in Korea each year during the last 8 years.
Since 2013, non-mesh inguinal hernia repairs have been performed. Hernia repairs are performed by 7 hernia surgeons leaded by Dr. Kang. We run a popular Internet blog for hernia and published Hernia guide-book '굿바이탈장 Good-bye, Hernia' and the cartoon to provide information about hernia surgery. We are performing surgery for inguinal hernia, femoral hernia, incisional hernia(including port-site incisional hernia), umbilical hernia, epigastric hernia, Spiegelian hernia, lumbar hernia and obturator hernia, but more than 90% is inguinal hernia repair.
All inguinal hernia repairs are performed by non-mesh technique no matter how big it is or no matter how complicated it is, without exception And also all inguinal hernia repairs are performed under the sedative local anesthesia without exception. The oldest man undergone inguinal hernia repair a year ago was 103 years old and he is doing well so far. More than 200 urology clinics are referring hernia patients to our hospital. Because they recognize the superiority of our new repair method.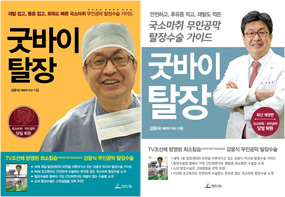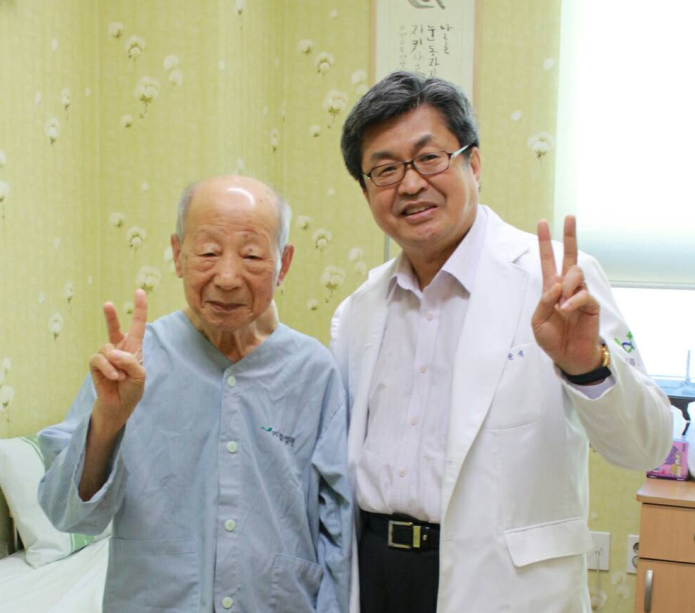 < The 103-year-old man and Dr.Kang Yoon-Sik >
Surgery Clinic
Our hospital has superior surgical performance in many areas besides just hernia repairs. Incidentally, our hospital performed the most laparoscopic appendectomies in Korea last year (893 appendectomies in 2017). Our popularity is due to many fellow doctors and the general public's recognition of the wonderful service we provide at our hospital. In addition, more than 1,500 laparoscopic cholecystectomies, anal surgeries, and other benign disease surgeries are implemented each year.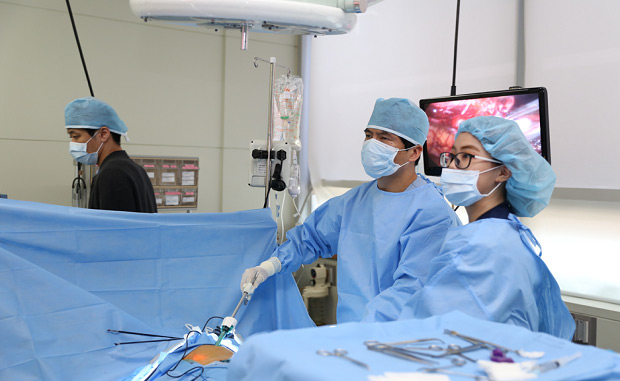 Endoscopy Clinic
We have the top colonoscopy and gastroscopy skills in Korea. 12,000 colonoscopies and 22,000 gastroscopies are carried out annually. Endoscopy tests are performed with Olympus Endoscope, a favorite for doctors around the world.
<Colonoscopy>
The US Multi-Commission Task on Colonoscopy recommends ADR (adenoma detection rate) as the colonoscopy quality indicator and requires more than 25% for males aged 50 and older, and more than 15% for females aged 50 and older, respectively.
Qualified colonoscopy
Gibbeum Hospital (in 2017)
ADR(adenoma detection rate)
male(≥age 50)
>25%
44.9%
male(≥age 50)
>15%
30.0%
Cecal intubation rate
90-95%
99.9%
Doctors believe that regular polypectomy could reduce the colon cancer incidence by 75-90%.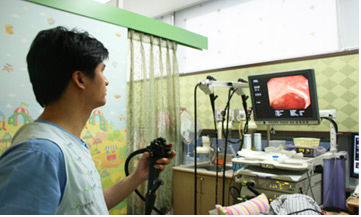 <Gastroscopy>
We do gastroscopy very precisely as well. Quality indicator of gastroscopy is the proportion of early gastric cancer detection to advanced gastric cancer detection. National statistics in Korea shows that the proportion is 1.3(56.8%/43.2%) However, our statistics in 2017 showed that it was 4.8 (82.8%/17.2%) It is 3.7 times more than national average. (4.8/1.3=3.7) You can know how our gastroscopy is precise.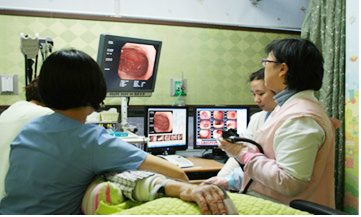 Regular Health Check Clinic
The clinic is equipped with high-end machines. It is known to do a very accurate examination. We will only give you the essential tests. Endoscopy tests are performed at Endoscopy Clinic.
We do detailed blood tests, urinalysis, ultrasound, and X-rays, and so on. Most tests are done with blood and an ultrasound device that has no risk of radiation exposure. Ultrasonic testing is performed withGE and Phillips high-end ultrasound devices for accurate diagnosis. You can check out our equipment. If radiologic examination is necessary, high resolution equipment is used to minimize radiation exposure using the minimum amount of radiation based on individual BMI. In particular, the Siemens 128 Dual Flash CT equipment which specializes in coronary artery examination is used to check coronary artery status. You can also check out this excellent equipment.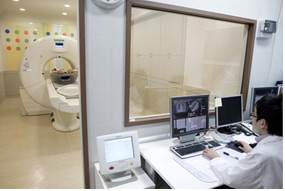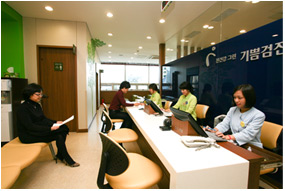 ---
Non-Mesh Hernia Center
As you may know, all inguinal hernia repairs had been performed without using any mesh, until Lichtenstein, an American surgeon, reported the result of his new hernioplasty with mesh in the late 1980's. At that time, many surgeons were expecting a new repair method with a low recurrence rate, as in those days, tissue repairs called 'posterior wall repair' showed a very high recurrence rate of 10-30%.
Dr. Kang had performed hundreds of Bassini hernia repairs, a typical posterior wall repair, since 1987 when he became a general surgeon until he opened a hernia center, which was the first one in Korea, and began to perform mesh plug hernia repairs. He performed more than 5,000 mesh inguinal hernia repairs until 2012 when he started to develop the new non-mesh inguinal hernia repair method. He saw many patients suffering from chronic pain after mesh inguinal hernia operations, and finally he successfully treated patients with severe debilitating mesh pain by removing the mesh inserted by a General Hospital. These dramatic experiences forced Dr. Kang to seek a new non-mesh hernia repair, and he began to develop the new repair method based on his past experiences with Bassini repairs. Because old-fashioned tissue repairs, such as Bassini repair, had a very high recurrence rate, it was considered of vital importance to try to find a way to reduce this rate.
After a year or so of development and improvements, the Kang Repair method, which is the new tissue repair, was completed. More than 6,000 Kang repairs for inguinal hernias were performed by Dr. Kang for about five years from 2013 to 2017 and have shown excellent results to date. Other surgeons in our hospital also did about 1,000 Kang repairs which have shown similarly great results.
Currently, we do a 100% non-mesh inguinal hernia repair no matter how large the hernia is, no matter how weak the tissue is and no matter how physically active the person is. Dr. Kang and all of the surgeons at Gibbeum Hospital think Kang repair to be the best inguinal hernia repair method with great confidence taken from recent past experiences.
As our new non-mesh inguinal hernia repair becomes widely known, the Gibbeum Hospital is recognized as the best hernia center in Korea and is increasingly recognized overseas. We will continue to refine our procedure further until we arrive at a zero recurrence rate with zero complications. We hope our non-mesh hernia repair will help a lot of hernia patients.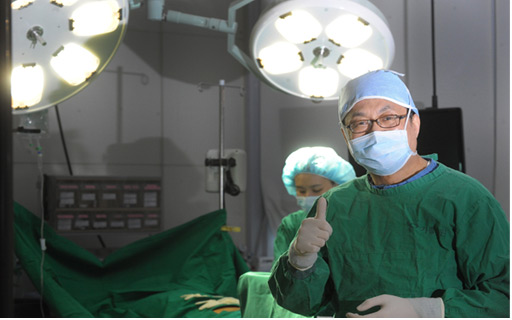 ---
Our hernia statistics
Since its opening in 2005, seven surgeons have performed 18,299 hernia repairs until September 30, 2019. Dr. Kang did about 80% of those repairs.

* 2019.09 statistics
Kind of Hernia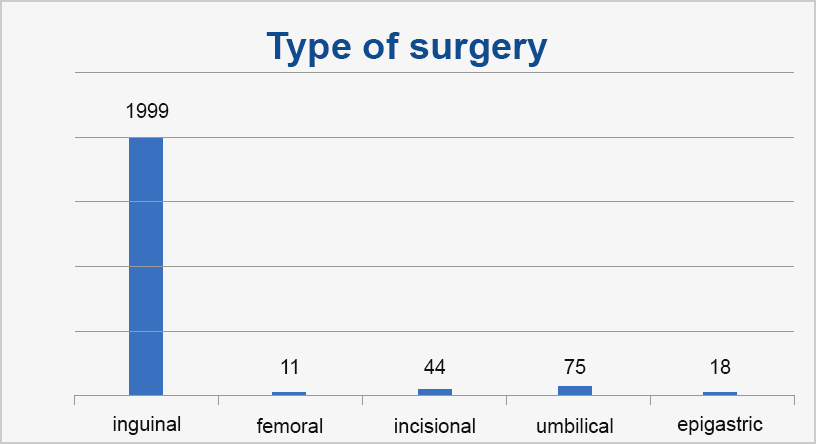 Site of Inguinal Hernia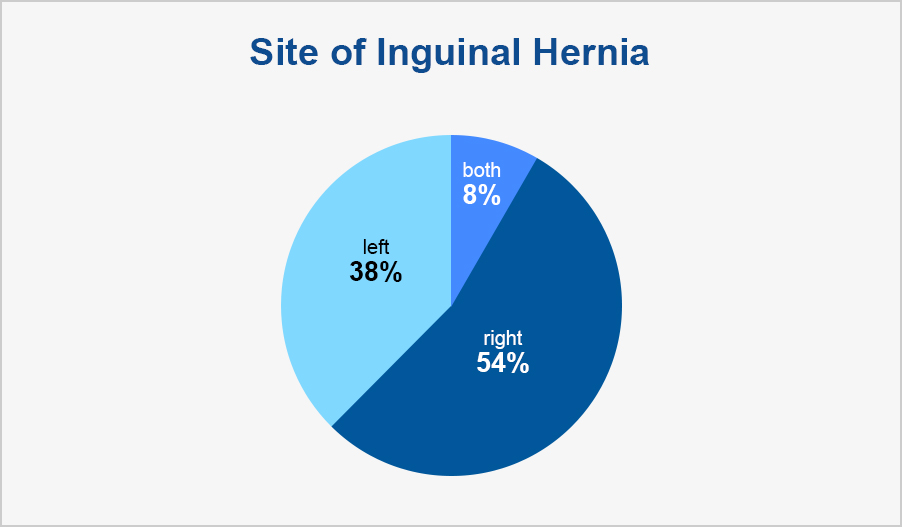 Sex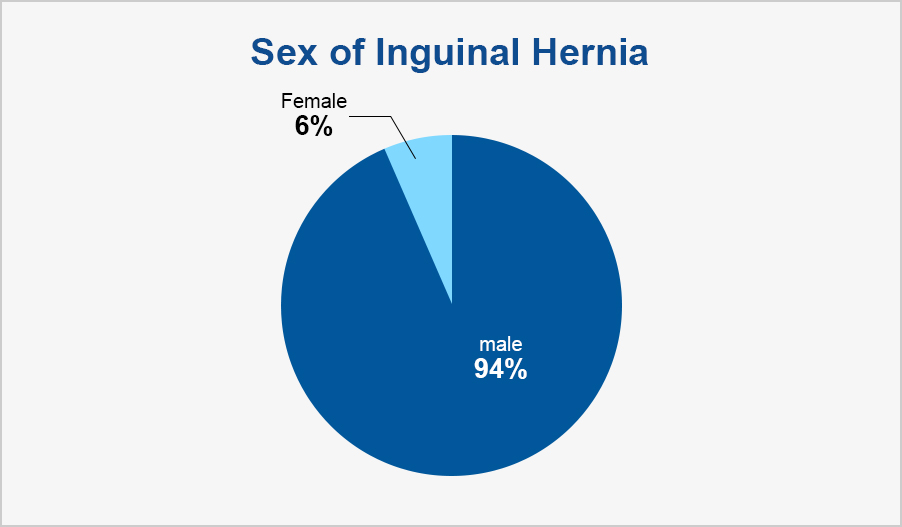 Age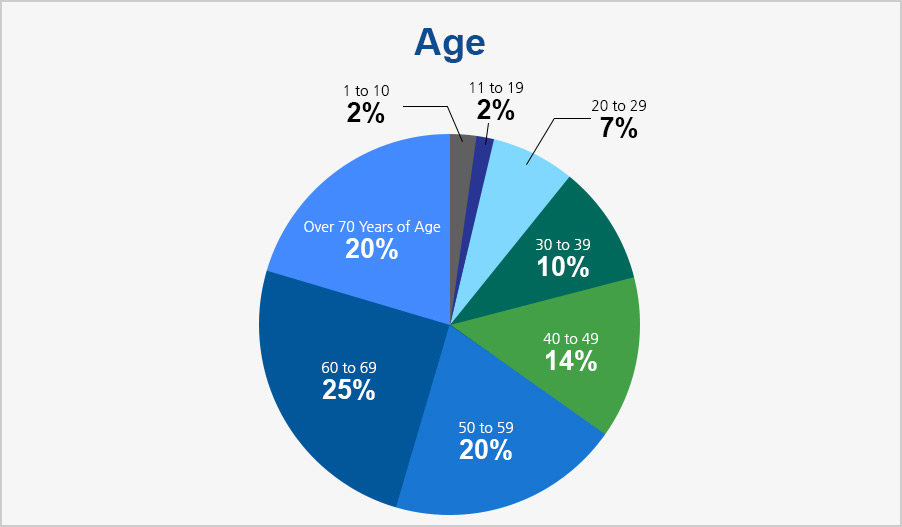 Recurrence rate: 0.5%
Chronic pain < 1%, mild intermittent pain